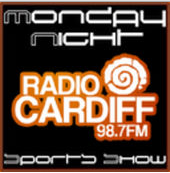 The Monday Night Sports Show with Francis Taylor is an award-winning community sports chat and debate talk show based in Cardiff, Wales. The program is broadcast live Monday nights at 7:00pm on Radio Cardiff 98.7FM, and features weekly banter discussing all aspects of local, national and international sports. The program occasionally features special guests and interviews with local sports personalities.
Launched on May 7, 2012, the Monday Night Sports Show is hosted by Francis Taylor. When not discussing the latest Cardiff sporting controversy, Francis is a history teacher at St. John's College. Joining Francis in the studio are Yousef Haider, Simon Williams, Martin Prendergast and Matthew Eves. The hosts present themselves as fans, reporting for the fans, as they debate local and international news for sports enthusiasts in Cardiff and throughout Wales. Previous guests of the show include former heavyweight boxing champion Joe Frazier, Welsh boxer Nathan Cleverley, renowned goalkeeper Neville Southall, former Cardiff City captain Darren Purse, cyclist Mark Beaumont and sprinter Jamie Baulch.
Each week, the lads hotly debate all the latest Premier League football news, along with the state of local squad Cardiff City FC. They discuss current events in the world of cricket, including issues related to the English national team, as well as detailed analysis of local headlines regarding the Glamorgan County Cricket Club. Simon reports weekly on the latest hockey news from around the British Elite Ice Hockey League, presenting the inside scoop on the Cardiff Devils. The panel also discusses what is happening in the Welsh Rugby Union, and the latest regarding local heroes the Cardiff Blues. The boys also frequently discuss boxing, Formula One racing and UFC news, and break down any other stories people are talking about in the world of sports. They also enjoy discussing the topic of fantasy sports, presenting their Fantasy League Top Ten Countdown.
You can find more information about the program online at www.radiocardiff.org. Podcast episodes are available for free download on iTunes and Podomatic.